Even though we are currently in the throes of winter, Brisbanites are lucky enough to have beautiful temperate weekend afternoons that are just asking for lazing around on a picnic blanket with some good food and great company.
Here's a list of our favourite grassy areas to bring a picnic, hang out and soak in some sunshine...
Captain Burke Park - Kangaroo Point
This gem is located under the Story Bridge on Holman Street in Kangaroo Park. with a beautiful view of the city and the Brisbane River. Seriously, the view here are just amazing and there is plenty of shade which is also a plus.
The park features:
a nautical themed playground and wide open spaces for the little ones to keep themselves entertained .
a bike track that can take you on the Kangaroo Point Cliffs, and even onto Southbank or West End if you were so inclined to have a ride after your picnic.
Public BBQs, tables, bubblers and public toilets.
Orleigh Park - West End (Hill End)
This is my absolutely favourite park in Brisbane. The park winds around the Brisbane River - with UQ on the other side. The park is massive with plenty of room to lay down a blanket on the grass or near one of its many fig trees and feel somewhat secluded. Often you can even get treated to local musicians having jam sessions. And as a recent additional, you may be lucky enough to find a food truck down there under the BCC's new food truck initiative - the park was treated to a Brazilian/Portuguese food truck last weekend.
The park features:
multiple playgrounds
a bike track (that actually connects to the above mentioned park)
plenty of BBQs and tables (some of which are sheltered)
public toilets
Also, if you are so inclined Orleigh Park is host to a full moon festival each month where local fire twirlers do their thing. It's quite a bit of fun.
Highgate Hill Park
Whilst you're in that neck of the woods, Highgate Hill Park is just up the road and is also one hell of a park for a picnic. With arguably the best park views in Brisbane you can be treated to a great panoramic view from Mt Coot-tha to our city skyline and onto Kangaroo Point. It is also an amazing vantage point if you happen in the market to view some of Southbank's fireworks - I have meandered up for Riverfire in the past and you really can't get a better view.
As opposed to the other parks on this list - the park is pretty bare bones. There's a really pretty rotunda at the top of the park and a gorgeous big fig, but that's about it. The park is also mostly hill, so if you have a problem with sitting on an angle, probably best to give this one a miss.
New Farm Park*
Yet another park situated along our river - aren't we lucky?! This is a massive park with plenty of room to kick a ball and run around with the kids. This is pretty much the place to go for a lazy weekend hangout for locals and is super close to the CityCat also. New Farm Park is also a convenient stop after visiting the Jan Powers Markets (if you've never been, I highly recommend you do!), or even before a riverside drink at the Brisbane Powerhouse.
The park features:
BBQ Facilities
Massive playground
Car park
Parking for the Disabled
Toilet facilities for the Disabled
Picnic Area
Public Toilet
Shaded Area
Sheltered Area
Roma Street Parklands*
Welcome to largest subtropical urban forest in the world! This park would have the be the 'fairest of them all' when it come to Brisbane Parks with pops of keiliscopic colour coming from the teams of flora your will find dotted around the park. The Spectacle Garden is a sight to behold and the grounds are home to an assortment of public art - Roma Street Parklands is just so pretty.
This is another large park (16 hectares!), allowing you to find your own space to throw down your picnic blanket if that's would you're up for - again there is heaps of space to kick a ball or play some cricket. There's even the 'Parkland Explorer' - a trackless train provides an alternative to guided walks and usually operates Wednesday to Friday from 10am-12.30pm, and Saturdays and Sundays from 10am-3pm.
The park features:
BBQ Facilities
Chairs2Share (deck chairs available for free to visitors)
Picnic Area
Playground
Toilet facilities for the Disabled
Public Toilet
Sheltered Area
* parks marked with an asterisks are licenced for alcohol consumption; if you are up for a cold brewski or glass of bubbles to go with your picnic.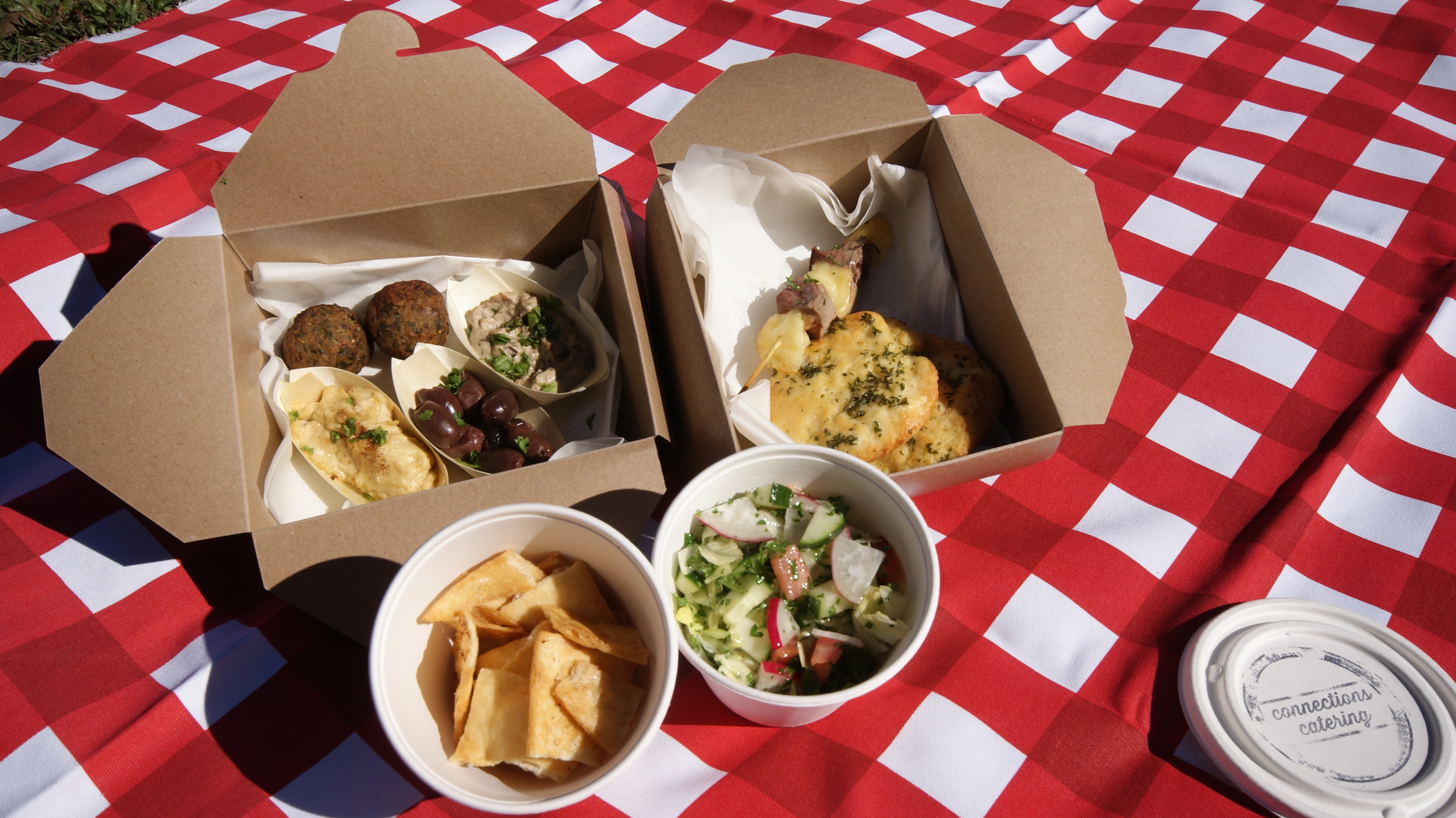 Also. We have something new & amazing in the pipeline!
We have recently developed some gourmet picnic bags and we will be making them available on a rotating basis at parks across Brisbane once all i's are dotted, and t's crossed. They are currently are available monthly at Picnic Hill, but we are working hard to make sure that anywhere a delicious picnic is required - we'll be there with these babies to make sure that's a reality. Pictured above: our Antipasto ($16), Ploughman's ($23), Middle Eastern($20) picnic bags - and by all accounts are delicious and filling.
We're very close to this being a thing - so if you would like to keep posted when this is happening and where we will be (or if you would like to request a particular park) please click here and let us know.